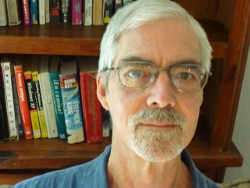 Since founding HyperLife Editing Services in 2000, I have assisted writers in a wide range of genres to develop and polish their manuscripts for publication. Clients consistently find value in my insightful comments and prompt service. My range of services includes proofreading, copyediting and developmental editing, as well as formatting for eBook or Print on Demand (POD) publication. I most enjoy the creative collaboration inherent in editing novels and creative nonfiction. My mission is to respect the writer's innate voice and story and help bring out its essence by clarifying language and tightening structure.
A list of my published clients in fiction and creative nonfiction includes:
Charles Finn, Wild Delicate Seconds (Oregon State University Press, 2012)
Colin Mallard, Stillpoint (Promontory Press, 2013)
Angela Williamson, Deadly Inheritance (KDP, 2013)
Anne Eisenmann, Bassus (KDP, 2013)
Frank Burnaby, Island Born (KDP, 2012)
Raye Rabbitfoot, Ley Lines (Xlibris, 2010)
You can trust in the professional quality and reliability of my services as a manuscript, ebook and book editor, whether for non-fiction or memoir, novel or short fiction. Here are some of the qualifications I bring to my work for you:
Ivy league education (BA, Dartmouth) and master's degree in English (Canadian literature).
Five years of experience as teacher of English as a second language, high school English, and creative writing.
Professional freelance copy editor since 2000, when I established HyperLife Editing Services, serving hundreds of clients from all over the world.
Professional Affiliations: Editorial Freelancers Association, Professional Editors Association of Vancouver Island, SFCanada, Victoria Writers' Society.
I laid a foundation and set standards for online editing services, with overall approach, specific pricing structure and standard levels of editing (HyperLife Editing Services) widely copied around the Internet.
Top-notch testimonials from satisfied clients. A large percentage of my clients are repeat customers and word-of-mouth referrals. This passive business stream means I have no advertising overhead and can keep your costs low.
Publication credits and positive reviews in poetry, nonfiction, fiction since 1976. Eleven books published to date, in a variety of literary and popular genres.
Years of experience in live writers' groups and with beta readers and critique partners, including an award-winning internationally published writer.
Ear for improving punctuation for clarity and cadence, rhythm and flow. While I can apply the strict rules of grammar as needed, I bring also the artistic sensibility to be flexible when appropriate. Example: "X surrounded himself with beer swigging, sports fanatics." –> "X surrounded himself with beer-swigging sports fanatics."
With the above skills and experience, my mission as a professional novel editor is to bring out the best in your creative writing. All freelance book editors are not created equal. Let me work my magic on a sample of your manuscript, at no charge, and you can see for yourself how my editing can improve your chances of publication success.