Access the resources you need to help you improve your writing.
Find out how editing can help you, what kinds of editing help are available, and what it costs.
Get editing and proofreading help to improve the readability of your manuscript, increase the chances of your book's success and expand your audience.
HyperEdits: Editing and More . . .
HyperEdits offers a full range of custom editing services for your manuscript: from custom developmental editing and consultation, to copyediting and proofreading, and formatting for publication. With over fifteen years' experience as  a professional freelance copy editor and published writer, book editor Nowick Gray offers unique skills to your project. His personalized book and ebook editing services are dedicated to your success—and tailored to your needs, your budget and publication schedule.
All types of fiction or nonfiction are welcome. HyperEdits book editing services are guaranteed to improve your personal memoir or family history, your literary novel or fiction ebook in a popular, commercial  genre.
HyperEdits will help guide you to a successful ebook release and self-publication in paperback, or provide manuscript critique, copyediting and proofreading to perfect your submission to traditional publishers. On this site you will also find tips and resources on writing, self-editing, self-publishing and book promotion, to help you at every stage of the book publication process.
The Professional Edge in Nonfiction or Fiction Book Editing Services
Editing is the most critical step on every writer's to-do list, whether that list item reads, "Edit my novel"  or simply "Format my e-book for Kindle." Either way, the missing word in "novel editor" or "ebook editor" is "professional." HyperEdits gives you the tools to self-edit if you prefer—which makes my job easier and your budget happier, as you reach that inevitable point when an extra hand or pair of eyes is needed. Then the expert touch, the advantage of training, sensitivity and experience, comes into play, distinguishing one freelance book editor or professional novel editor from another.
Like writing itself, editing for publication involves both art and craft. And like writing and editing, choosing among the plethora of novel editing services out there can be overwhelming. So whether you're seeking help for your novel, short fiction, creative nonfiction or memoir, go with your instinct. Check out the credentials and testimonials, compare prices and choose the editor you most resonate with, the services you most need.
About the Editor, Nowick Gray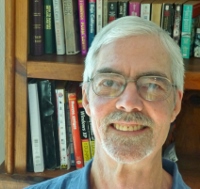 I founded HyperLife Editing Services in 2000, breaking ground in Internet editing with pricing structure and online service offerings. I have developed a list of loyal clients and offer services for virtually any kind of writing. As a published fiction and nonfiction writer, I have a special interest in working with book and ebook manuscripts.
I have a master's degree in English from the University of Victoria (1976) and a bachelor's degree from Dartmouth College (1972).  I was an active member of a local writers' group for two decades, helping to move the work of several co-members toward publication. Since then I have worked with several critique partners on fiction and nonfiction projects. My own essays, fiction and poetry have appeared in a variety of periodicals and anthologies. My book-length publications include a literary mystery (2015), a psychological thriller (2014), an adventure novella (2013) and two collections of stories and essays (2014).  For more information on my writing, go to http://nowickgray.com. For a more detailed list of my editing qualifications, clients and testimonials, go to my bio page on this website.